Latest Posts
Subscribe to this blog's feed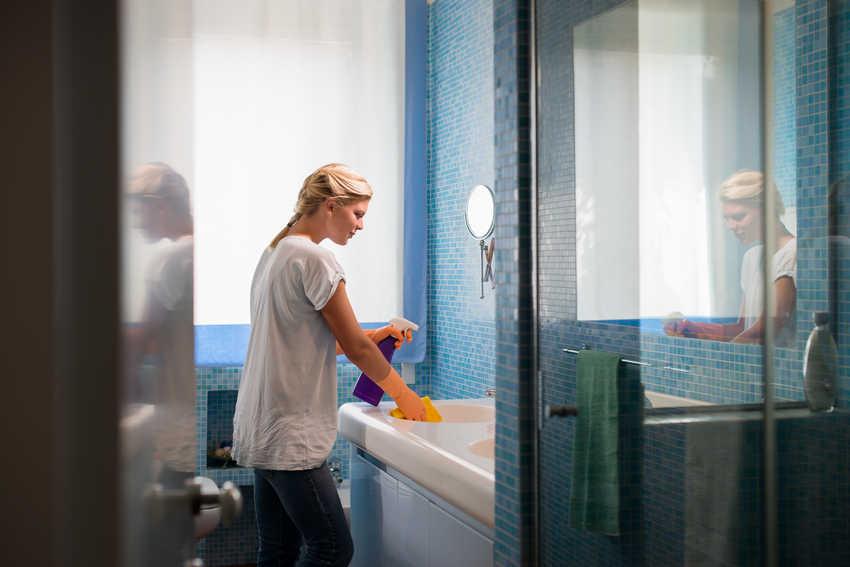 Not many people enjoy cleaning a bathroom. For a place that is meant for cleaning, it can get so very dirty. It's a complicated space to clean, with so many different cleaning product options. Can you use the same thing to clean the sink and the shower? How can you keep your mirror and counters from looking streaky? But there's something about freshly cleaned, gleaming bathroom surfaces that is just satisfying. We'll walk you through our tips on the best ways to clean your bathroom and keep it squeaky clean, so it can keep you that way.
The first thing to do is assemble a kit and a method. Having all of your cleaning supplies together will help you to tackle the whole thing at once, rather than just cleaning the mirror and getting sidetracked on the way to the grout cleaner. Then, have a streamlined method with logical steps that are easy to repeat.
Shower: try covering your showerhead with a bag filled with vinegar and letting it soak overnight, then run the water to rinse it out. Wash the plastic shower curtain liner in the washing machine every once in a while to prevent the buildup of mold and mildew, and add some towels to help scrub it all away. An easy investment for any bathroom is a long toothed plastic stick that can be put down drains to grab any hair or grime that clogs everything up and do that every couple of weeks. Finally, apply a foaming bathroom cleaner to the tub and let sit for fifteen minutes before scrubbing.
Sink: after wrapping up with the shower, simply spray down the sink with the same foaming cleanser and scrub. If you have a clog, try using your new stick friend that unclogged the shower drain, or pour some vinegar or baking soda down. For bathroom fixtures like faucets, try wiping down with white vinegar or dish soap and warm water.
Grout: it's almost unbelievable how quickly grout can become dirty and dingy. And because grout is porous and susceptible to bacteria growth, it's important to give it a good scrub when needed. Just use a brush dipped in bleach and scrub away. You can also try using a sealant one or twice a year to keep out the moisture.
Tile: spray tile with an all-purpose cleaner and let the shower do the work for you. Get some steam going with hot water from the tap and shut the door, letting it all mix for around 20 minutes. This is also a good way to clean walls and ceilings. Then just wipe it all down with a cloth.
Toilet: is there anything baking soda can't do? Pour a cup of it in the bowl and let it sit for a few minutes, then use your toilet brush or a sponge and scrub away.
There you have it! Soon your bathroom will be as sparkling as you, and with so much less hassle.